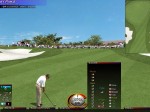 Full Name: Links LS 2000
Original Developer: Access Software
Original Publisher: Microsoft
Original Release Date: 2000
Port Comissioned by: Green Dragon Creations, Inc.
Mac Release Date: 2000
Mac Publisher: MacSoft
Excerpt from Mac version review at Mac News Network…
Links LS 2000 is a revamped Macintosh version of one of the premiere golf games available for Windows, offering gamers one of the most beautiful and realistic golf simulators available for any computer platform.

Links LS 2000 features several modes of play scattered across the game's six beautiful courses that have been modeled after their real life counterparts. Every detail, from sand trap location to the green, has been accounted for. Video-captured players, including Arnold Palmer and Fuzzy Zoeller, contribute to the realism of the game, although the static, pixelated crowds do little to complement the life-like players.
I came in on the tail end of the project, and it was a short one for me. This product was based on
the earlier version, the original Links LS, that I had helped port. By the time I got involved,
all that was needed was bugfixing. With my familiarity with the original code I was able to get
things on track pretty quickly. However, this was another reminder of how important unit testing
is to compare both platforms together.