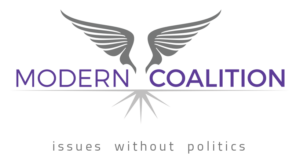 Product description: Free-to-play "Group Decision" game for iOS and Android
Release Date: December 2015
Website: ModernCoalition
Product history/genesis: A startup focused on improving voter engagement
Team: Small group, ten total
Core Technologies: C# in Unity3D with a .Net based server
Most proud of: Implemented majority of project in roughly two months
Responsibilities: Client and Server coding
In March 2015 I was laid off from DeNA, just a few days after releasing Marvel Mighty Heroes. This was the end of an era for me, over a decade. I worked my way up from an independent developer porting Windows games to Macintosh, to writing next-gen cross platform games on mobile.
During the previous era, each opportunity was offered to me, without really having to "reach" for them. But this layoff was a hard stop. I had no idea what I was going to do next. I really thought I was out of the game development business. All the work I'd done was remotely for other companies. Where I live, there aren't any game companies. And, other than the people I worked with, nobody had any idea I existed. I liked to joke "I'm the best game coder nobody's ever heard of."
I don't recall how exactly this startup had heard of me, but we connected just before my layoff, asking only for counseling. They were not a gaming company in a classic sense, but one that was working on solving a problem by making a game. The idea was to make voting on issues into a game. One that you had to earn the right to vote for by playing minigames.
After a few months it became clear that I wasn't finding reasonable options for non-game work where I live, so I offered my coding services to this startup in hopes that it would lead somewhere. The project itself wasn't particularly complicated, but I did invest in learning enough server side .net to make the gameserver with it.
Eventually we hit a wall with funding, and it was either "ship it or close shop." With so much of my own time and money invested, I didn't want to let it go without a fight. In two months I tightened up what we had and shipped a working game to iOS and Android app stores.
In the end we couldn't get enough players in the game to make it worth continuing, shutting the servers down a mere three months later. To this day I believe that with the right team this project could soar. Until then, adieu.