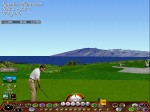 Full Name: Links LS (Legends in Sports)
Original Developer: Access Software
Original Publisher: Access Software
Original Release Date: 1997
Port Comissioned by: Green Dragon Creations, Inc.
Mac Release Date: 1997
Mac Publisher: Access Software
Excerpt from PC version review at CDAccess.com…
After winning nearly every award for a sports simulation possible with Links 386, Access Software had to dig deep and stretch the limits of technology to bring you the next generation of Links – Links LS. So what's new about Links LS? Every stroke, every blade of grass, every contour, every chirp…everything is new!

Unlimited screen resolution and up to 16.7 million colors – resolution independent means that Links LS can match any monitor's maximum viewing capabilities (even 1600×1200 and higher) and up to 16.7 million colors means the finest in color quality possible. You've simply never seen any golf simulation software this good.

Totally new terrain rendering engine and ball flight gives Links LS a realism never before achieved in the gaming industry. As Links has always done, we render not just the hole itself but the entire course and more – you literally can hit your ball a half-mile out of bounds. Now, authentic ground, sand, and grass textures combine with dynamic shadows and fog, to give you a course so lifelike you can almost feel the wet grass. Our engineers have reworked the ball dynamics giving you true-to-life ball flight. Fade your drive just like the pros or watch as your high arching wedge shot actually backs up on the green.

At Access, we believe a golf game should be more than just an interaction with your mouse. We take seriously the challenge of recreating the golfing experience for your computer to totally immerse you in our favorite sport at the flip of a switch.

Arnold Palmer at Latrobe Country Club
Arnold Palmer at Latrobe C.C. – the first in our Tour Player Series, delivers far more than 18 holes of golf. The Arnold Palmer experience includes a virtual reality tour of Arnie's workshop, office and trophy room. Roam freely in 360 degrees and examine the tools of the trade behind the legend. Listen to Mr. Palmer give insights and recollections about his PGA and Senior PGA tours through Access Software's exclusive multimedia footage. Then tee off as or against the digitized Mr. Palmer, who not only looks and sounds exactly like Arnie, but plays with the same style and tenacity that defined the legendary Grand Master of Golf.

Kapalua, Maui – 36 Stunning and Demanding Holes
Resting on the windswept coast of Maui, two glorious Hawaiian Island courses have been selected to inaugurate Links LS as the first in the series of Resort Courses. The Arnold Palmer-designed Kapalua Village Course has a distinctly European flavor and a commanding view of the West Maui mountains. The 7,263 yard Kapalua Plantation Course showcase expansive slopes, deep valleys and unique native vegetation. You can take a walk through the Plantation Clubhouse and examine over 93 points of interest.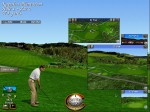 The original Links LS was the most complicated port I was ever a part of. We were just
wrapping up the Under a Killing Moon project when I was given the source to this and asked to
research it.
This game was designed as a DOS game that had a Windows-like front end. This meant that all of the
GUI work, normally handled by the OS, was handled within the game itself. On the plus side, it
looked much better than anything out there, including Windows itself. However, it took over the
screen and rendered everything itself. To keep the look and feel closer to the original, we chose
to keep it this way, rather than recode it to use Mac-standard windows. To make it more Mac-like,
I had to swap all the OK and Cancel buttons in the resource files by hand, then make the close boxes
not look like the Windows 'X'. This turned out to be difficult, a lot of trial and error, but
possible.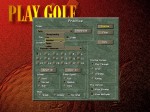 And yet that was not the most difficult part. The rendering system was an engine unlike anything
I've seen before or since. It was capable of rendering images with a variety of different methods.
Translucency, darken, lighten, multiply, add, and subtract modes were available. Even some special
3D texture rendering modes were all handled through this system. And for each one, it supported a
variety of graphics card pixel formats. And almost all of them had to be supported on the Mac side
in order to read and operate on the original data files that came in the game. Then we had to add
two more to handle the Macintosh Thousands and Millions graphics modes. How it did it: lots of
little snippets of assembly language code. Luckily, this was a PowerPC only CFM application, so
we only needed to convert these once. For the record, it is possible to build your own code
at runtime in a CFM app. Complicated, but possible.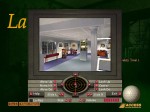 Data files were also a problem. We were tasked with making sure to use the original game data
files unaltered. This meant byte-swapping the structures during loads. This in itself was not a
big problem, but there were some cases of unusual byte-packing orders. One thing that I have
learned since this project is that you must have the ability to create unit-tests that can be run
on both platforms. It would likely have saved us considerable trouble.